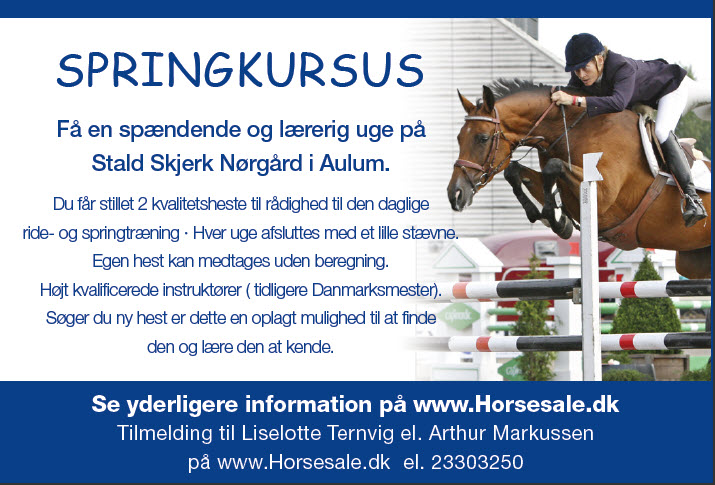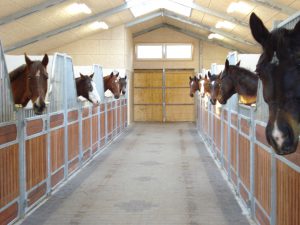 Jumping Clinics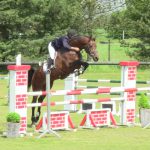 Are offered as weekend og weekly courses or on a prolongened periode to suit your desire and needs.
Every rider is given 2 horses of high quality for daily riding- and jumping training. The selection is made according to the riders own wish and experience. An excellent way of getting familiarized with your new horse. You can also bring your own horse or pony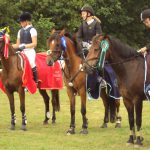 We offer as well worldwide clinics taking place at your own facility.
The riders are trained by Arthur Markussen – an experienced showjumping trainer and Liselotte Ternvig – an active Showjumper, who has won the Danish Championship several times and for 12 years was a member of the Danish National Team.
The riders arrive at Skjerk Nørgaard Monday morning. A welcome meeting is held for information about the course. Hereafter is it possible to see the place and say hello to the horses. The clinic starts Monday afternoon and ends Friday at noon. The last day is arranged a small show where you ride the horses you have ridden during the week. .
The course is including room and board, lessons and riding. Own horse can be brought at no extra expenses. Bring blanket sheets and towels – Remember the riding helmet! Possibilities for swimming in both Aulum Outdoor-pool, Sunds lake and maybe in the North See. Price: DKK 3.200. Deposit DKK 1.000, – is paid when you sign up and not until then is the space reserved. If cancelling the course later than 4 weeks before the course starts, the deposit is not refunded Besides the summer courses we arrange week-courses in all school-holidays and weekend-courses when agreed. Call for further information.